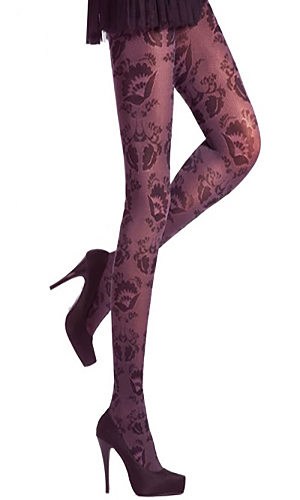 These tights are supplied in the open packet often used for opaques, so you may find that you need to wash them before you wear them. The packet doesn't tell you very much. All the size and style information is stuck on the bar code label.
The picture above is very carefully posed. The pattern must stop mere fractions of an inch above the hem of that skirt. Although the colour of our test pair is described as Mulberry (as pictured above), that is the colour of the legs only. The plain panty is black. While on the subject of the panty it has a very well made seam. But it is not flat, and it is very heavy/ So it may show through any very tight or close-fitting shorts or skirts.
The legs are straight tubes, and the toes are un-reinforced. The toe seam is well finished. Some thought has gone into the design of the legs. Although described as 60 denier, the look and feel are far lighter. The stretched material gives the effect of semi-opaque flowers on a fine checked background. You would almost swear that you could see through, yet every skin blemish is completely concealed. A very effective look that will add that extra touch of style to an outfit.
Fit on the legs is pretty good, and the sizing is accurate in that you won't find they are too small if you are within the "one size" limits. Fit is the panty is somewhat below par. The lack of a gusset is a serious omission. The heavy seam in the panty flattened quite a lot under tension, so it was not as much of a problem as we feared. But please look in the mirror before going out wearing these tights under tight clothing.
While loving the design, we can't help feeling that Pretty Polly cut just too many corners. At £6.25, we don't expect the earth, but we would have liked to see a gusset and the pattern to the waist, flat seams, and a choice of sizes would have been nice but are perhaps too much to expect from PP at this price. A great look for your legs could have been great tights, but too many compromises in the design for us.
For more Pretty Polly products, click here. For more reviews, click here.