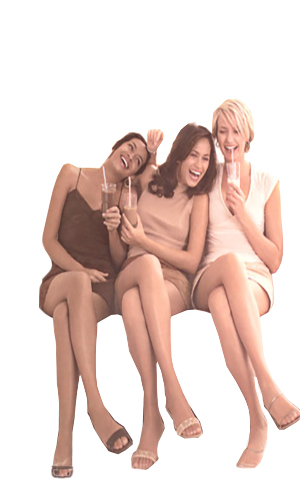 When we first looked at these tights, we said, "From the packet, these tights have the same look and feel like the summer tights with Polyurethane in the fibre mix". At that time, the packet quoted a fibre mix of 56 % Nylon with 44 % Lycra. As it turns out, we were quite correct. The second pair we obtained to test had the corrected mix as shown below the picture.
The look on the card is quite similar to how cheap micromesh tights can look. Do not be deceived. In the hand, they are smooth and soft and feel gossamer thin. These tights are made sheer to the waist with an invisible toe and with a cotton-lined reinforced gusset. On the leg, these tights feel and look lovely. What you see is just a faint sheen on the skin. Perfect for summer.
If you take care and buy a shade to match your tanned skin colour, your tights will be almost invisible, but they will give your legs a healthy, even glow.
Pretty Polly has introduced a new sizing system for this style and others. Size Small/Medium, if you are, are under 5'6" and under 42" in the hips, size Medium/Large if you are any bigger. If you are tall or of a fuller figure, you may find the fit of these tights a little on the small side. Our earlier comment, "One size to cover medium and large is optimistic even for tights with 44% Lycra", clearly no longer apply as there is no Lycra in fibre, accounting for the limited stretch.
The raised seams in the brief and the wide area of reinforcement around the gusset are a disappointment. But these tights do look great on the leg and feel wonderfully smooth and soft, so well worth buying.
Perfect fit, flawless matt finish. Soft and smooth to touch on the leg. Body fit is a little loose, ventilated as the Aristoc Soleil moisturising tights but less suitable. Comfort waistband prevents rollover.
For more Pretty Polly products, click here. For more reviews, click here.