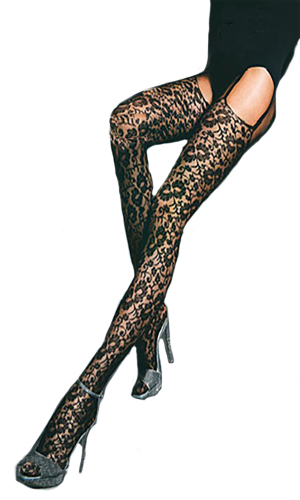 The day we picked up these tights, we also collected some suspender tights designs from Trasparenze. A casual look at the packet for this style made us think this was a style of the same ilk from Pierre Mantoux. When we read the packet notes, we realised they are full tights with a mock stocking design.
Pierre Mantoux makes this style in a full range of four sizes, from small to extra large. If you want any colour other than black, you are out of luck. One point to note on sizing is that it is out of step with some other quality brands you may be familiar with. So that size IV (German 44-46), which is Large in many brands, is XL here. Take care when ordering. We picked up size III (Large) when size IV (X Large) was what we wanted.
The feel of these tights is more like lace than patterned tights. Until that is, you get to the upper thigh where there is a band of 15 denier sheer material crossed by the suspender straps, four per leg.
The lace runs from the simple toe seam around the shaped heel and to the stocking top. The panty area is plain, about 50 denier and styled as a high leg high waist panty with integral suspenders. Flat seams in the panty, of course, and a cotton-lined gusset. The whole is topped off with a plain waistband.
Sizing is accurate, and the 14% Lycra provides a good amount of stretch, but you need to use this with care. The lace legs feel robust and will take assertive handling but don't get carried away and try the same thing with the sheer part at the top of the leg. It will respond just like any other sheer material. Fit is excellent from hip to toe.
The look on the legs is very flattering and ideal as a partner for that little black dress. If your dress is clingy, then don't worry about VPL. The panty is opaque enough to make additional underwear unnecessary for all but the most modest of ladies.
Looking at our test pair and comparing it with the picture above, we suspect there may be both a black on black (as tested) and black on nude colour choice (as pictured above). At the time of writing, we have only seen black on black.
Pierre Mantoux does make top class hosiery, and this is one of the best styles we have seen from them. Classy, sophisticated, beautifully made and in the current market with one size "designer tights" at £15.00, an excellent value too.
For more Pierre Mantoux products, click here. For more reviews, click here.