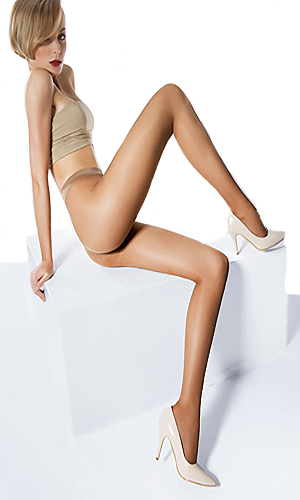 Somewhat unfairly, we tend to compare any sheer tights to Falke. Falke has been our brand of choice for day to day wear for years, offering what we believe to be the best balance between price, quality, comfort and durability. For once we have a style that meets that challenge.
Silky smooth and soft but with an obvious strength, these tights are a treat from the first touch. The detailing is all we could ask for. With flat seams at the toe and in the panty, invisibly reinforced toes and shaped (carded) legs. The panty has a cotton-lined gusset in size I-III and a comfort gusset in size IV. For strength and durability, a reinforced strip on either side of the panty seam and around the gusset and a finger band transition to the deep soft waistband.
The size chart suggests that there are five sizes. The lack of comment about a gusset style in size IV makes us believe only four sizes are made as it happens UK Tights stock sizes I-III anyway. Size III should fit up to a height of 5'10" (178cm) and a weight of 165lb (75kg). Happily, the sizing is a little on the generous side, and there is plenty of stretches.
Size III is large and equivalent to a Falke size IV. It's something of a shock, but these Italian tights are sized bigger than the German standard. On the leg, the look and feel are both equally good. Delightfully soft and smooth with a perfectly even matt finish. There are three skin-tone shades to choose from, plus coffee and black, so a shade for every time of day and every season.
A full day of wear about the office, and our tights came off looking as good as they went on. This is quality hosiery, doubly remarkable considering the issues with Pierre Mantoux tights when we first saw them some six years ago. We could almost be tempted to change at £2 a pair cheaper than Falke Pure Matt 20 Tights.
For more Pierre Mantoux products, click here. For more reviews, click here.