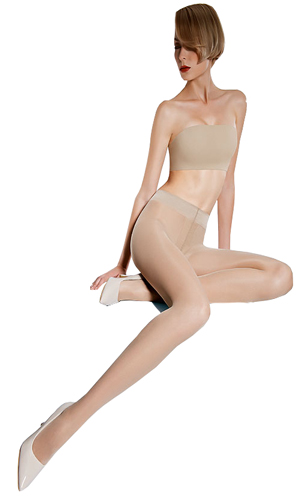 These are confusing times for connoisseurs of hosiery. Pierre Mantoux is, without doubt, a premium brand and the description on the packet rear, which we have repeated above, reads like our wish list for a fine pair of tights. So why the confusion? Well, recently, there have been dramatic price rises from many hosiery manufacturers, to the extent that even pretty average brands are selling fewer well-specified sheer tights at more than the £8.95 asked for these.
So let us repeat what we have here. Top-quality sheer to waist tights that are soft to the touch and beautifully made. They have invisibly reinforced toes, shaped legs for a perfect fit, a cotton-lined gusset (sizes I-III) for freshness, flat seams for comfort strength, a smooth silhouette, a deep soft waistband, and a finger band for durability.
Sizing is on the generous side of accurate, so you can avoid the comfort gusset in size IV unless you need the extra width in the hips. Perfect even colour and an impeccable finish.
Great fit and all-day comfort, with tights that look and feel as good at 6 pm as they do at 6 am. These are serious competitors for the very best from the likes of Falke. More of a matt finish than Falke Seidenglatt 15, sheerer than Falke Pure Matt 20, they compete head-on with Falke Pure Shine 15. 
We can offer no higher compliment than to put this style in that company. Add the fact that they are cheaper, and Pierre Mantoux are on to a winner. Give your legs and your credit card a treat with these lovely tights.
For more Pierre Mantoux products, click here. For more reviews, click here.