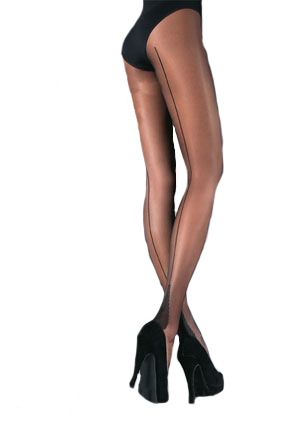 Regular readers of our reviews will know that there are two constants in our world. Firstly Pierre Mantoux makes incredibly sexy tights, and secondly, we are obsessed with sizing and how inconsistent it is.
Pierre Mantoux provides a comprehensive size chart that explains their sizing in the Italian, French, Spanish and German system and includes measurements for the USA. There is also a column for the UK based on dress sizes, but this doesn't seem right as the UK dress size 30-32 is not small. It's a tent!
The only real danger is that if you are used to buying your tights in size L, you maybe should be looking at XL in this brand based on experience. Our test pair came in size III/L, so we will soon know.
First impressions of the tights. Sheer, light and top quality. More objectively, these 15 denier tights are sheer to the waist with flat seams and a cotton-lined gusset. No reinforcement in the panty other than a couple of tiny patches adjacent to the gusset and a finger band to give a solid transition to the waistband.
The foot end is where these tights stand out, though. Reinforced toes and sole running into an entirely shaped reinforced heel. The heel is a pyramid style one connecting to a back seam. The seam is knitted in and runs to just below gusset level.
We love the shaped reinforced heel. The key to getting your seams straight is setting them properly at the heel, and this design makes that easy. Thankfully, there is enough length and stretch in the foot to set the heel correctly, even if you have large feet.
No complaints about the sizing. Size L was perfect on our model, who wears size L typically in German brands. Sizing is accurate then, but a tiny bit more generous than the size chart suggests. Fit is fabulous, like a second skin from waist to toe.
The finish on the leg is pure class, perfect even colour throughout, ever so sheer and that certain something that only quality hosiery can provide.
As for the seams, they run straight as a laser without any adjustment. Paired with the pyramid heel, they give a killer sexy look that is hard to beat.
Would it have been better if the seams ran to the waistband? No, in this case, probably not. It would be hard to improve on this look. Only genuine, fully fashioned stockings could make the seamed look better. Great tights that are well worth the money whether you are buying them for yourself or a loved one.
For more Pierre Mantoux products, click here. For more reviews, click here.