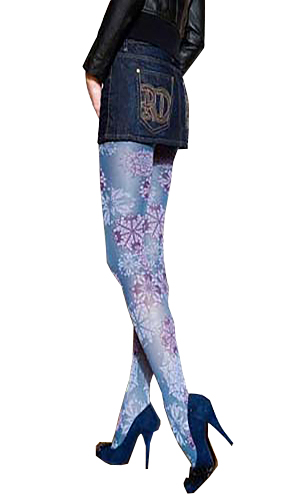 When announced, this style was available in a range of colours, including Black, Prune, Brown and Petrol; the last two of these colours are modelled by Stacey for you to take a closer look at. Such has been the popularity of this very funky winter style that only black and brown remain at the time of writing, and they are in short supply.
The construction of these tights is relatively straightforward, almost basic. The straight legs have a smooth finish like a typical 40 denier opaque and carry the printed snowflake pattern from the lightly reinforced toe to just below the crotch. The boxer style panty is plain and more open-knit than the legs. It has no gusset, just a central seam, not flat but well finished.
The packet carries the standard Red or Dead size chart, but it is not relevant to this style as it is made only one size. As you can see from the manufacturer's photo, the one size fits all does seem to work in this case. Stacey is 5'10" and very long in the leg and found the fit to be perfect.
The pattern is what these tights are all about, and we are pleased to say that it works exceptionally well. Unlike some printed patterns, it remains vivid and well defined even when stretched. Depending on the colour, it can look quite sophisticated or just plain fun. Even after wearing, the pattern was perfect with no cracking of the printing. We did think that £9 was a bit steep for constructed one size tight at first. But the purpose of hosiery is to look good and to feel good, and this aim is achieved, so we have no hesitation in recommending that you grab the few remaining pairs.
For more Tights products, click here. For more reviews, click here.