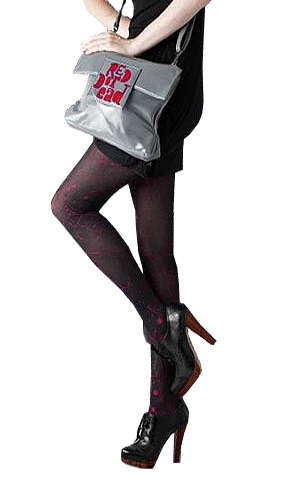 The name of these tights did, it has to be said, raise a few eyebrows here. Every name conjures up a mental image. Although not all the Red or Dead names are as exotic-sounding as Anouska or Lola, they are all at least feminine. Angus made us think of a burly Scottish farmer, so the tights indeed need to be very good. Then we realised it was Agnus!
First impressions are very "Jackson Pollock", the basic black tights have a paint splatter type pattern in Lurex thread from just behind the reinforced toes to just short of the top on the leg. The pattern is well-considered and seems to be just enough to give the flash of colour without overwhelming the background. The construction of the tights is very disappointing for a style that costs £10. These are the most basic tights with unshaped legs, a plain boxer brief of a different knit and texture to the legs, wiggly raised seams and no gusset.
Our test pair came in size "Large" which should fit up to a height of 6'1" (185cm) and a weight of 198lb (90kg), although not together. If your legs are even of average length for your height, they will come up short if you are 6'1". In the hips the sizing is accurate. The fit in the panty was inferior, thanks to the lack of a gusset. The closer you are to the maximum hip size, the more of an issue this will be.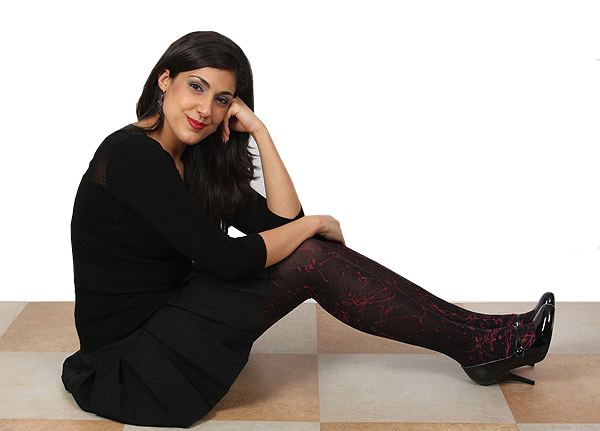 The legs look stunning. This is an excellent idea for a design, and it has been perfectly executed. Such a pity that great design has been paired with relatively cheap basic 40 denier tights. We know Red or Dead can do better. We hope they revise this style so we can recommend it.
For more Tights products, click here. For more reviews, click here.