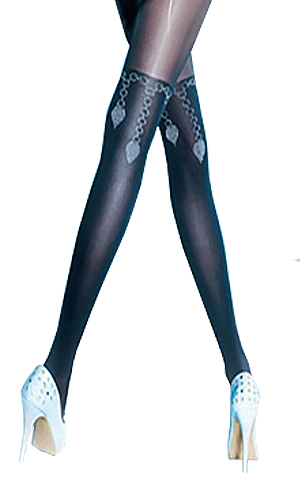 First off, we would like to answer many of our readers' questions about this design. Yes, they are tights. The Over The Knee (OTK) refers only to the design. As with other styles in their Premium range, and indeed their super-premium House of Holland range, Pretty Polly have opted to make this design in just one size, a little limiting but heights up to 5'10" should fit most women.
The inner packet again carries instructions on how to put your tights on, and again we have to say it is a pity that the label with the instructions is not "easy peel", so you can still read it after opening the packet. Maybe next season. These are very much tights in three parts. The unshaped lower leg is 60 denier and finished with a reinforced toe detail. The opaque material continues to above the knee, where there is a chain detail around the leg with two "locket" details running downward (clearly visible in the picture above). The chain detail is in a metallised polyester fibre, aka Lurex.
The upper part of the leg is sheer, around 20 denier. The panty is opaque, about 60 denier, like the lower leg and styled as classic low leg panties. There is a cotton-lined gusset in the panty, which we like, but a heavy raised seam that we are not so keen on. At £12, a flat seam would have been nice. There is no denying that this both looks and feels like a quality garment.
A word of warning, take care putting these tights on. It would be easy to get carried away stretching the robust 60 denier opaque material over your leg and to suddenly find you are treating the more fragile sheer upper leg the same way, which will lead to tears and tears. Stretch slowly and carefully, and these tights will fit the leggiest of 5'10" ladies. The exact position of the chain detail will depend on your leg length and foot size. You cannot fault the fit and comfort. The opaque panty feels snug and holds the legs in place beautifully.
The styling is something we love. The opaque lower leg flatters the shape of your calf and ankles, and then the chain and locket design catch your eye. Get the length of your skirt just right, and the lockets will be clearly visible to all with the chain and perhaps the sheer fabric above just being glimpsed from time to time. If you go more daring and decide to show off a lot of thigh, the opaque panty will protect your modesty even if you choose to go without any other underwear. Flat seams and a choice of sizes would have been excellent at the £12 price point, but those are minor quibbles. Style never did come cheap, after all!
For more Pretty Polly products, click here. For more reviews, click here.