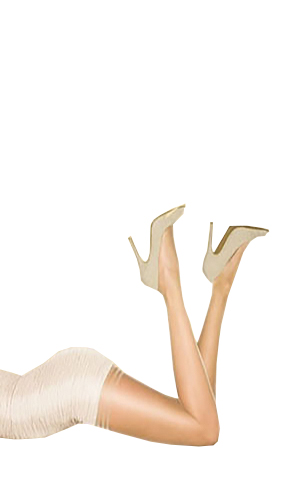 Pretty Polly offers you shaping with discretion. Whether you prefer the bare leg look of their Natural Secret Slimmer Tights or this style from their Nylons range.
The legs of these tights are just like the others in the Nylons range. Ten denier, slightly glossy, shaped at the heel and finished with a reinforced toe. A winning formula that Pretty Polly have applied to good effect over the years. Just below the gusset level are the first of three horizontal bands. The first two are about 7mm deep and the third is nearer 2cm deep. These bands are not just darker but have greater stretch resistance. As well as being decorative, they should avoid the bulging effect you sometimes get when sheerlegs are sewn directly to a heavy control top.
The boxer style brief has a cotton-lined gusset and attaches directly to the top band at the top of the leg. Pretty Polly has changed over the years in their sizing, so now there are just two sizes S/M and M/L. Both sizes cover heights 5'0" to 5'10" (152-178cm) with just the hip size differentiating; less than 42" or more than 42" (107cm). There is more length to play with than the size chart suggests, and the hip sizing is accurate. If you are at the top end of the hip size range, you could find them tight, so consider just how much slimming you can take.
We have always liked the look and feel of Pretty Polly Nylons, and these look and feel better than ever. A second-skin fit on the leg with perfect even colour and an alluring sheen. Silky smooth and perfectly sheer, you get a look that is a class above what you would expect at the price.
As for the control top, well, it is smoother and sharper than a squeezer, you know it is there indeed, but you will be able to move and eat. There is no problem that we could see with bulging at the top of the leg. You get a perfectly smooth silhouette. Should you decide to go without other underwear, the cotton-lined gusset will help to keep you fresh. The heavy opaque panty means your modesty will be protected even if the Paparazzi do ambush you as you get out of your limousine.
Excellent tights that are equally suitable for the office or a night out. Our one quibble is that we would have liked to have seen flat seams in the panty. But that will not stop us from stocking up on a few pairs!
For more Pretty Polly products, click here. For more reviews, click here.