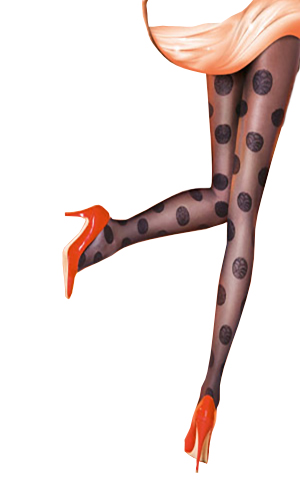 There are two descriptions to ascribe to these tights, fun fashion and one size. They are fun fashion, pretty evident from the picture, although what is not apparent is that it is pretty hard to get all those big dots to be round on your leg. Look carefully, and you will see that some are somewhat oval even in the carefully posed packet shot.
The lace features quite heavily in the design. Not only are the dots filled with a lace pattern, but the high leg panty is lacy too. The panty also features flat seams and a cotton-lined gusset. The only darker portion that is plain is the reinforced toe. The toes incidentally come a long way up the foot.
One size tights fill us with dread here they suggest a height range of 5'0-5'10 (152-178cm), a weight range of 44-72kg and a maximum hip size of 42" (107cm). For once, we had no problems with one size being too small, these tights will easily stretch to fit 44" hips and a 34" legs which is a lot of leg at 5'10. The fit was not great even when stretched beyond the suggested maximum. So if you are petite, you may find this style of tights too big for you.
For once, we have no quibble with Pretty Polly's pricing. They put a lot of quality features into their Lace Spot Tights. Slightly more attention to sizing would have been excellent, but otherwise, these are great fun tights for the larger or taller lady.
I nearly forgot. These tights are made in England. At least our review pair was. Rather a shame that with a famous British brand like Pretty Polly, this is worth noting.
For more Pretty Polly products, click here. For more reviews, click here.