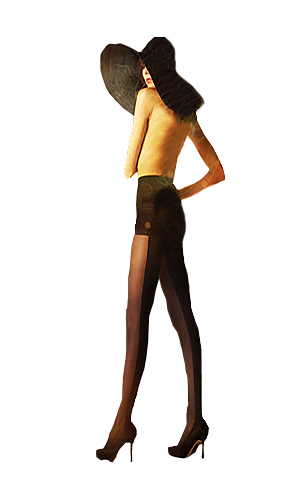 When we first saw the name of these tights, we were a little perplexed. How could tights be both sheer and opaque? Then we realised that Pretty Polly had made tights that look one way from the front and another from the back.
When you first open the packet, there is no clue that these tights are unusual; they are soft, matt finish tights with straight legs that look and feel around 40 denier. Only when you stretch a leg over your hand do you notice that one side is sheerer than the other. There is no label to let you know which is the front and which is the back, but both the picture and description suggest sheer to the front.
Pretty Polly has used a two size system with just your hip size determining whether you wear the S/M size or the M/L size. The sizing is accurate and is if anything, just a little generous. The fit on the leg is very good with perfectly even colour both on the matt opaque back and the more shiny sheer front.
The detailing is perhaps just a little disappointing. The 40 denier material covers the whole sole of your foot and extends over the toes to look to a very heavily reinforced toe from the front. You would want to be sure your shoes cover this. The panty is not the same weight and finish. The back part of the legs is an ordinary opaque boxer style brief with a good quality seam and gusset.
The idea works, and the design on the leg is well-executed, stylish and eye-catching. It just goes a bit flat at the top of the thigh; maybe they worked to a price point. We have seen the best made of the Absolute Legs range but perhaps just a £1 from greatness.
For more Pretty Polly products, click here. For more reviews, click here.