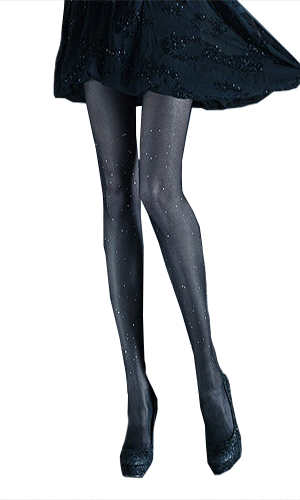 There is some confusion regarding the actual name of this style of tights. The packet has the style code '20F132-BST', which is precise if not particularly romantic. We have seen various terms such as "polka dot" and "stars" included in the name. We are not complaining; the confusion gives us something to write about.
We have 20 denier one size tights from Zohara's 2013 collection; they are one size. Through the window on the packet, we can see that they are embellished with a pattern of tiny faux diamonds. Liberated from their packet, the tights are very smooth and soft to the touch, the leg part anyway. Zohara has made them with straight legs and a boxer style brief with flat seams and a lined gusset. Although rated at 20 denier, the look and feel are more like a semi-opaque of 30-40 denier. The quality of the material and the quality of the sandal toe seam are very apparent.
Frankly, the boxer style brief is a bit of a puzzle to us, that aside they are close to premium quality tights, and while we accept that the boxer style can be more comfortable than sheer to the waist, that and the single size seems out of place. We have to suspect that the picture above is a handmade preproduction pair of these tights because the sample looks nothing like it. The diamond pattern clearly should run from ankle to upper thigh, but on our sample, that was ankle to just above the knee on the left leg and about 5″ higher up on the right leg. This makes the tights unwearable.
Sizing is quite generous, ample for a tall UK size 16, the fit is good too, but that is academic. The softness apparent in hand does not transfer to the leg. The look is more 30-40 denier than 20, which is not bad as the greater depth of colour is ideal for showing off the "diamonds".
This is a gorgeous design from Zohara. It would be a winner if they made the tights sheer to the waist and positioned the design correctly. Sadly, a good design idea is let down by poor detailing and negligent manufacture.
For more Tights products, click here. For more reviews, click here.