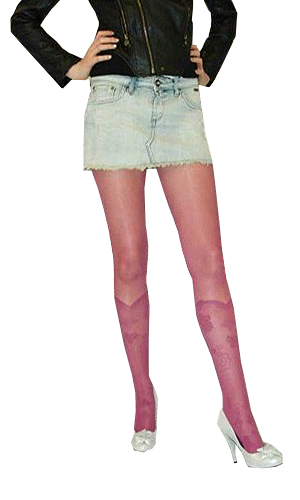 Add a touch of country girl chic with these fabulous Cowboy boot design tights from Red or Dead. Perfect for the cooler days of summer, these sheer tights have a unique boot design that will transform any outfit. We guarantee you won't see tights like this anywhere else. Yet again, Red or Dead have produced an innovative design, tongue in cheek and eye-catching. Available in 5 different colours, these stunning tights are perfect for a wide range of funky looks. Hurry, though, as stocks are limited!
Red or Dead use the same packet for all their tights with only the closing label letting you know which style, size and colour are within. This certainly makes sense in controlling costs.
Size is where we would like to start our review. This style is available in only one size if you want the black or skin shade. The other three colours come in 3 sizes. The "why" of this is a complete mystery to us. It would be nice if a size chart on the website explained "one size" limits. There is no indication that we can find the fibre mix either.
Red or Dead is all about the design, of course, and this is an interesting one. The boxer style panty and the leg from the toe to just below the knee carry a tulle lace design. The leg in-between is the only part that is sheer 20 denier. The toes are reinforced, and there is a little shaping at the heel. The lace panty is finished with flat seams and a cotton-lined gusset, and a deep plain waistband.
There is plenty of Lycra in the fibre to give lots of stretch and a good fit. We tested a black pair, and we suggest that the "one size" is medium with just a bit of flexibility on either side if you take care to stretch gently and evenly.
The "boot" styling is a lacy sock, but it works if you wear the right shoes (heels) and long slender legs. The boxer cut panty looks good and is not something you need to hide from view, but you will want to add a thing unless you are particularly bold. The sheer portion has good even colour. Whichever of the five colours, black, ivory, orchid, rose, or skin that you decide to try, your legs will be the centre of attention. Stocks of colours other than black are limited so buy now if you want some!
For more Tights, click here. For more reviews, click here.