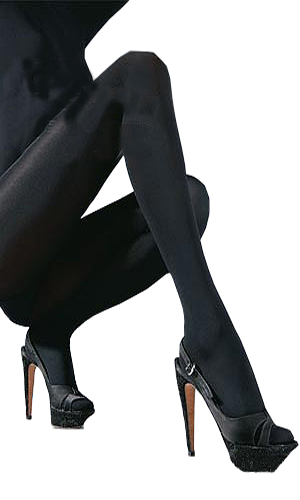 We know that Pierre Mantoux make some sublime fashion hosiery and gorgeous, delicate sheers, including the sexiest seamless tights that we have ever seen. But can they impress as much with opaque tights?
Indeed, there is a feeling of quality to these tights when you handle them, and we applaud Pierre Mantoux for including instructions on how to put them on the card, although these are less important with opaques than sheers. Detailing is better than getting on the run of the mill opaque tights. The toes are not reinforced, and there is a hint of shaping at the heels. The panty features a cotton-lined gusset in sizes 1-3 and a comfort gusset in size 4. All sizes have high-quality flat seams and a soft waistband.
The size chart provided sizing for all the various European countries plus sizing based on height, weight and hip size for the USA. As the European systems all use the same notation but mean different sizes. The measurement information is handy. As reviewed, the largest sizes were intended to fit up to 6'0" tall, 225lb weight and 54" hips (183cm, 100kg, 137cm).
The large size fits only to within 1" (2.5cm) of height, so unless you need the extra hip space, that size would be the better choice to get the cotton-lined gusset. Our testing confirms our initial thoughts on sizing, the largest size will easily cope with a 34" leg (87cm), so unless you are incredibly leggy and full in the hips, the large size will fit. Sizing is on the generous side of accurate for length.
Fit is excellent, and the colour density is ideal even for the hip to toe. Entirely sheer to the waist, these tights can be worn with the shortest fashions. For once, a comfort gusset deserves the name. Somehow Pierre Mantoux has managed to avoid the usual problems inherent in gaining hip space in this way; perhaps it is the leg length allowing the seat to be free of downward pull.
So to answer our opening question, yes, Pierre Mantoux can impress with opaque tights too. Veloutine 70 fits beautifully, feel great to wear, flatter the legs and look expensive. Well worth the premium over lesser brands.
For more Pierre Mantoux products, click here. For more reviews, click here.