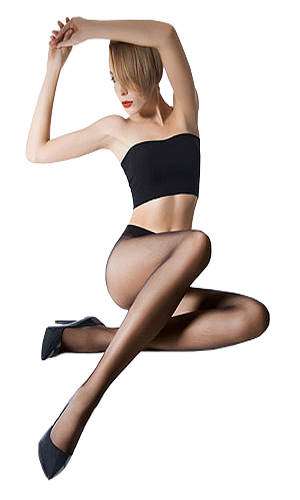 Having thoroughly enjoyed the Pierre Mantoux Veloutine 30 Tights, we had high hopes for their more sheer sister style. And we were not disappointed. Very superior sheer tights, the feel from the packet is light, soft and very inviting. The texture of the material is very much like that which you get with premium seamless tights.
Detailing is what you would expect from a premium sheer tight. Sheer to waist, flat seams in the panty and just the lightest of reinforced strips on either side of the seam and beneath the waistband to add strength and durability. Slightly unexpected was the reinforced toe detail. But it makes sense on such soft and sheer tights, and once on the toe is hard to see anyway.
Our test pair came in the largest size (IV or XL), which Pierre Mantoux claim will fit up to a height of 6'0" and a weight of 225lbs. Looking at the tights, it is hard to believe that they will stretch to anything like that size. But there is 40% Lycra in the yarn, and they stretch and stretch quickly, reaching their intended maximum size. The fit is like a second skin, and the flawless matt finish is more like make-up than hosiery.
Sizes I-III feature a standard gusset, but size IV has the V-shaped comfort gusset. On the whole, we try to avoid this detail, but the combination of the light fabric and 40% Lycra meant that in this case, comfort and fit were not compromised.
Lots of stretch is all well and good. But not if the tights sag or creep down during the day or if the stretch does not spring back when you take them off. No problems here. Pierre Mantoux has managed to make tights that stretch and fit perfectly without feeling tight yet, which return to near their original size when you take them off.
Almost £16 is a lot to pay for 15 denier tights. But although sheer, they are durable too – a whole day in the office and not a hint of distress. Utterly gorgeous sheer tights that you have to try.
For more Pierre Mantoux products, click here. For more reviews, click here.