Gerbe Sun Satin 10 Tights are fantastic!
(We have also included other Gerbe Sun Satin images in the post, so we hope you like them!)
Even on the card, these tights look of high quality. Soft and smooth to the touch with a fully shaped heel, flat seams and a silk gusset.
The detailing is interesting as the larger sizes have two seams at the rear with the silk gusset being V-shaped. The rear panel is of a heavier yarn. The waistband is elasticated, more like knickers than tights, and has the Gerbe name repeated around it. Rollover is not an issue with this design.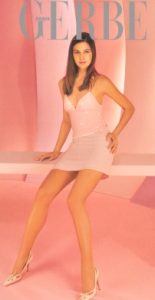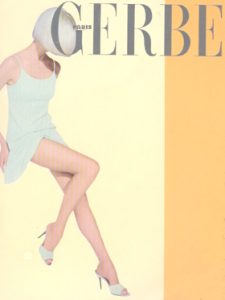 Simply heaven to put on, even though there is 12% Lycra it hardly seems to be required, the material slides up the legs and fits. The feel on the legs is soft and super sheer. The matt finish and sandal toe, to make them almost invisible. Expensive tights. But great value if you want that barely there look and feel.
Packet notes say that the back panel includes silk in the yarn. Marked down from their regular price of £12.50 to just £6.25 anyone wanting the perfect tights for the summer should buy whatever they have in their size. Packet notes say that the back panel includes silk in the yarn.
As you can see from the three different packet designs and the change in fibre mix Gerbe reinvent this style for each new season. The good news is that this means you can buy at the season end and get a real bargain. Every incarnation has been a delight. Our favourite in the Sun Satin range, but you should try them all! Whether many stores will keep all the range is debatable, but you can always buy direct.
For more Gerbe tights, click here. For more reviews, click here.