Falke Seidenglatt 15 Tights really knock it out of the park!
We bought size large for our review. The size was spot on for our tallest tester. Falke sizing goes to XXL in this style and is accurate to generous; you would need to be a little bit larger to wear the XXL.
These fully shaped tights fit exceptionally well and have just a slight sheen, the feel is smooth with just a hint of hardness in the yarn.
More recently we tested XL size pair that came with the new packaging. These have a sheer back panel rather than the cotton gusset. Sizing is very generous, ideal for ladies with wider hips; length is as the L size.
These are exceptionally well made, durable and sexy tights and a firm favourite with everyone who has tried them. Suitable for both work and a night out.
Sometimes words are not enough, and you need a picture so we asked one of our models to pose for one so you can see just how fantastic these tights look on your legs: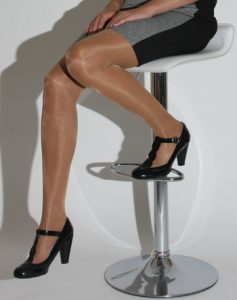 We hope that you agree and can see why these continue to be our favourite tights.
In spite of the recent falls in the Pound (£) against the Euro (€), you can still buy these tights for under £8.00…and you should! (Sadly as of September 2013 they are about £12 a pair but still well worth every penny)
Fort Spring 2009 Falke have added some bright and bold colours to the Seidenglatt range, sadly we have only seen these in Germany so far but hope to see them in the UK soon. If you can't find them here, the Falke Lopez Tights are also a great alternative.
For more fashionable Falke products, click here. For more hot reviews, click here.