Philippe Matignon Product Reviews
Philippe Matignon is one of the most respected and highly regarded designers of essentials and high-quality everyday tights you can find right now. They are a smaller company and not as internationally recognized as you might think, but they really should be. So what is so great about them? Let's have a quick look.
Who Are Philippe Matignon And What Is So Amazing About Their Tights?
This designer is one of the lesser-known names in European hosiery, but they are also one of the greatest for day to day wear. Philippe Matignon makes some of the most well made and comfy items of legwear around, and they only make them in regular and plain sheer tights or semi-sheer tights. This is not to say they are plain as in they are dull. Quite the contrary, they all have a gorgeous sheen or healthy tan tones that show off the legs, and they all work well to show off the natural beauty of your legs. They are all unadorned and without any patterns, but that is so that Philippe Matignon can make some of the most well made and well-fitted items of legwear possible, and create something that is technically unrivalled and thoroughly well made. If you want some shiny sheer tights that are impossible to beat for a classic look, then go with Philippe Matignon. You will find some of the comfiest and flattering sheer tights in the world with a quality you can only get from a brand made in Europe.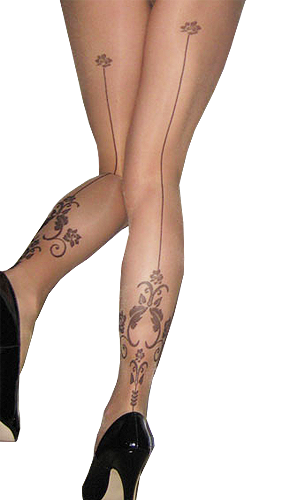 Philippe Matignon Intensite Summer ultra pantyhose with floral pattern and back seam design feel like ten denier.