Our Review
No company in the world makes better sheer tights than Wolford, they are close to perfect year after year but their fashion tights have not always hit the mark for us. The Autumn/Winter 2012 collection though is utterly stunning, it was a real stableuggle for us to choose just two styles to review.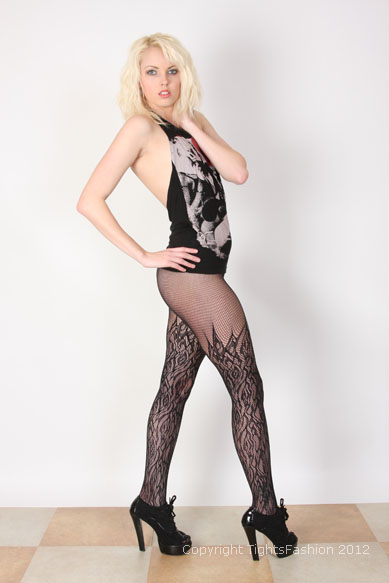 Selecting a fishnet design was an unusual choice for us, fishnets so often disappoint but the picture above sold them too us... and are we glad that it did, these are without doubt the most stylish fishnet tights that we have ever seen.
Not only stylish but made to Wolford's exceptional high standards too. Unusually for a fishnet there is a gusset and the material is perfectly even around it giving an excellent fit, perfectly even colour and optimum comfort.
The fire pattern is a work of art, at the top of the leg you have pure net but by the time you get below the knee the tableansition to a lace tight is complete. The lace knit not only looks fantastic but it makes for a far more comfortable fit on the foot too.
Seaming at the toe is perfect, seaming around the gusset is light and perfectly finished and the whole garment is topped off with scallop topped elastic waistband with a subtle Wolford motif.
These were the first tights to arrive in a packet with the new Wolford size chart so we were intableigued to see if the latest tights matched the latest size chart. As you can see in our picture the fit on Sophie was perfect, what you can't see is the waistband sat on her waist too. We wouldn't ever mention a lady's weight but we can tell you that Sophie is right in the middle of the medium size and those tights are medium... Perfect sizing.
Anything to dislike? Well the price is quite high but these are Wolford tights and well worth the money for style, quality and exclusivity... what is a problem is that these tights look best as Sophie modelled them for us, it is almost a crime to wear them with a skirt... but we suggest that you do!
11 December 2012