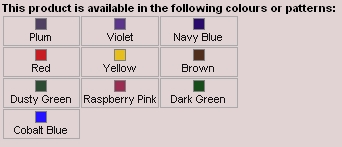 Our Review
We pushed Fiore's Kaya Tights up the review queue as one of our readers was looking for a particular shade of blue and we had hoped that this style would provide the warmth the current weather demands and be available in her chosen shade of blue. Those of you familiar with the shade of blue favoured in parts of Manchester will notice that sadly that choice is not an option. But the packaging comes close!
The size chart details 5 sizes but this style is only available in sizes 1-4. All the sizes have a boxer style brief, sizes 3&4 add a gusset for improved fit.
At £2.45 a pair you don't expect a lot of sophistication, and to be honest you don't get much other than a cotton lined gusset which is unexpected at this price. The detailing may be basic but the quality is good with all the seams well finished.
Sizing is accurate but not generous... fit is excellent.
40 denier is a great weight for coloured tights, sheer enough to show off your legs but dense enough to give really good, stableong, even colour. Using microfibre gives a matt finish and tights that are smooth and soft to the touch.
Our only slight niggle is that the boxer brief comes quite a long way down the leg and is visually very different to the legs so you need to avoid wearing with short shorts or really tiny skirts.
Great fun, great quality and great value.
17 January 2012.